Cohesive Technologies showcases the best of FIRE & SECURITY Solutions at IFSEC India 2016.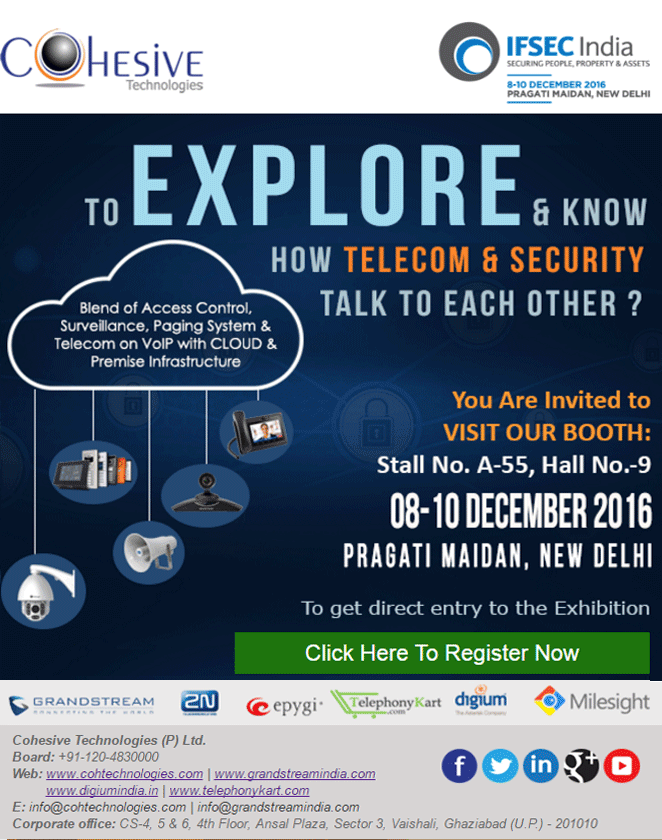 About Cohesive Technologies
Cohesive Technologies is a Global Telecom Solution Provider on VoIP and IP Platform as well a leading Integrator and Solution Provider with the Best Innovative IP Solutions which adds value to Customers through a combination of different high end technologies for a true Convergent Solution. Working with Technology Partners like Grandstream, EPYGI, 2N, Aculab, Digium & Eurotech helped us delivering state-of-the-art-technology Products to Premise and Cloud based requirements for various companies that span across multiple segments. Cohesive most innovative and state of art solutions on UC and UCC with VoIP as base had always kept us way ahead the competition and deliver the most Promising solutions to Partners and End Customers. For more information, please visit www.cohtechnologies.com and for constant updates be connected with us on Facebook, Linkedin and Twitter, googleplus, Youtube, Blog.

Cohesive Technologies Contact:
Ashdhir Kinra
C.E.O
CS-4, 5 & 6, 4th Floor, Ansal Plaza, Sector 3, Vaishali, Ghaziabad (U.P.), 201010
Phone: +91-120-4830000
info@cohtechnologies.com
www.cohtechnologies.com
www.telephonykart.com

About IFSEC INDIA 2016
The tenth edition of IFSEC India will be on 8 – 10 December 2016 at the Pragati Maidan, New Delhi. IFSEC India showcases cutting edge products like CCTV & video surveillance, biometrics & RFID, integrated systems, access control, cyber security, integrated systems, physical security, perimeter protection, fire detection systems, intruder alarms and fire alarms.