Cohesive Technologies to Exhibit with 2N At Convergence INDIA 2017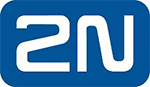 2N Telecommunications Czech Republic, currently part of Axis Group, is a leading European manufacturer of IP intercoms, IP access control units, IP audio systems, a wide range of GSM/UMTS gateways and PBXs, LIFT communicators, and M2M solutions with over 25 years of experience bringing long term value added cooperation to partners, following customer ideas and market trends., is excited to announce they will be showcased by Cohesive Technologies from 8 to 10th February 2017 at Pragati Maidan Delhi, Booth No A-1, Hall No-09.

Cohesive Technologies is a leading system integrator and distributor for VoIP products in India/APAC and EMEA. Cohesive Technologies with 2N opens new business opportunities across the world. At Convergence, attendees can see how 2N integrates to delegates aware of innovative products of VoIP and the essentially desired Digital Security features their products has. Having the major pies of the international market.

Come by Convergence India and experience the technology of future.

Cohesive integrates and design solutions which use state of art technology and delivers the Value added solutions, based on customer insights and our promise of Convergence. Cohesive Solution acts as a centralized system for a range of SIP-enabled devices. These devices go beyond what telephony personnel usually support such as surveillance devices, credit card readers, paging systems, cameras, and door stations.

Convergence India is the only platform in this region which demonstrates convergence of technologies in Telecom, IT, Broadcast & Digital media sectors.
Convergence India will showcase latest trends and technologies related to Telecom, Broadcast, Cable and Satellite TV, Cloud & Big Data, IoT, Digital Homes, Mobile devices, Film and Radio, Content Creation, Management and Delivery, etc. and also provides engagement with digital innovators, international business gurus, telecom and broadcasting czars, leaders from IT & Internet and IoT industries.
To know more on Convergence. Please visit www.convergenceindia.org
About Cohesive Technologies:
Cohesive Technologies is a solution provider on VoIP and unified communication Platform. Cohesive Tie-up with Technology Partners like 2N, Epygi, Digium, Milesight and Grandstream not only helps to provide variety of VoIP solutions but also ensures state-of-the-art technology solutions with scalable and reliable systems. The main goal is to make communication easy and cost effective so that business can thrive and continue to run smoothly. For more information, please visit www.cohtechnologies.com for more information or connect with us on Facebook, LinkedIn, Twitter.
About 2N Technologies
2N is a leading company engaged in the development and manufacture of products in the field of Communications and physical security. We are #1 in the IP intercom market, complying with the most stringent international standards (ISO, TÜV, UL, CE). Our products are compatible with third party systems (Genetec, Milestone, Cisco, Bosch, Avaya, Alcatel-Lucent and many more).
We are continually expanding our operation and currently do business with partners in more than 125 countries. You will find our branches all over the world. From 2016 2N is a part of AXIS Group.
Visit us on our website www.2n.cz