Evaluate these 4 factors of Unified Communications to Make Collaboration the Game Changer
Unified Communication is evolving every year. Integration of wired and wireless communication tools and technologies is changing the landscape of business communication. The latest result of such is seen in video conferencing technology that has evolved from just being a virtual meeting point for content sharing platform, too. Such an evolution in Unified Communication is letting the remote, on-site, and especially unwired workers spend more time to work on tablets or smart phones instead of desktops.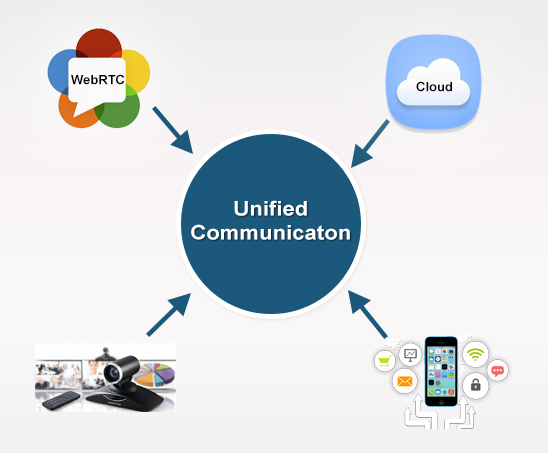 Let us see what are the 4 factors of Unified Communication that or is letting the business professionals communicate like never before.
Cloud-based Unified Communication
Lack of in-house expertise is forcing businesses to opt SaaS. This is not just the case with Unified Communication but every SaaS-based service – due to the flexibility and lower operational costs. This model is best for small businesses as they just need to pay when they need it. But one thing that most of us neglect is that, in many cases, as the user-base increases, SaaS becomes more expensive than in-house. According to Numerates Research, the tipping point for IP telephony is 2,500 users. Further, very few service providers are available that offers customization, which is the drawback for small businesses.
Mobile Unified Communications
Mobile workers are becoming the trend and are going to exist at least for next few decades. Thus, it's very important for businesses to have Unified Communications system that can be run across many devices and mobile operating systems. Single-number reaches ability is the most desired one along with unified communication features that are exactly the same on their tablets or smart phones as on desktops. But, at the same guarantee of real-time application performance and data security is most important to be pondered over.
What's next in video conferencing?
Video Conferencing was and is the most vital element for collaboration. But, with the time and way of doing business as well as demand for maximum productivity desired, content sharing needs to be integrated. In addition, HD, scalable video coding, interoperability, and low costs need to be taken care of.
WebRTC
WebRTC lets voice and video endpoints to function without the need for a separate app or browser plug-in. Thus, click-to-call, click-to-chat, or click-to-video becomes possible. Also, it enables peer-to-peer communications without UC. But the fact is that WebRTC is still in its infancy stage. Do consider before making a decision for WebRTC services that guarantee such.
What Unified Communication technology blends?
Without any doubt, Unified Communication is far way ahead from legacy communication technologies. VoIP makes it possible to run Voice on LAN. With this came the unified messaging which has a common inbox to monitor all modes of communications? Next, comes the real-time aspect or attribute. Evolution of real-time Unified Communication made conferencing on the fly reality along with sharing of business data & information. These features ultimately make management of workflows smooth and effective. In short, business personnel and employees are able to work across 'any mode' from 'any locations' and with 'any type of device.'
Unified Communications is more than just a Voice Technology. It embeds voice into business applications and processes. So, Unified Communication is both COMMUNICATION and COLLABORATION. It provides a common interface so that users are not required to switch applications or different modes of communication as well as for information sharing.
Most of the businesses are deploying a hybrid model i.e. the mix of cloud and in-house. To know more- than which model will suit best for your business, visit www.cohtechnologies.com